As a follow up post to my colossal waste of time last fall, I just added a third node to our AiMesh system and am happy to report that the theatrics that I documented previously are no longer the case.
I just ordered a brand new ASUS RT-AC66U B1 AC1750 from Amazon to replace node (2) in our system as it fell accidentally when moving some items around in the shop – one antenna broke completely off and I have been getting random network drops and Remote Desktop encryption errors when connecting from the garage PC to my CAD workstation in the office.
To get this one setup, all I did was plug in the power and connect to it wirelessly from my iPad. I figured I would roll the dice and see if the newer firmware on the main router (ASUS ROG GT-AC5300) would simplify the process. Once connected to the SSID using the password on the sticker on the bottom of the new AC66U B1, I opened chrome and navigated to 192.168.1.1. The ASUS connection wizard fired up. I clicked Advanced at the bottom of the first screen, selected AiMesh Node on the second screen and received a message that the router would connect to the mesh network and I should visit my AiMesh router's configuration page (referring to the AC5300) to continue setup.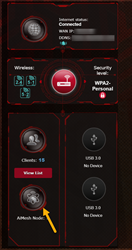 I connected to the AC5300 from my desktop PC, navigated to Netw ork Map, Clicked on the AiMeshNode icon.
The new AC66U was immediately available in the Find AiMesh node box, so I clicked on the new node. The status went immediately to 18%, then 62% then 100% in the span of about 15 seconds. The page refreshed and the new node was available in the AiMesh nodes box.

The Bell icon at the top of the page started blinking to let me know there is a firmware upgrade available.
The firmware version on the GT-AC5300, as well as the two existing AC66U B1s is 3.0.0.4.384_45149-g467037b.
The firmware that shipped on the new AC66U B1 is 3.0.0.4.384_32738-gc9a116a.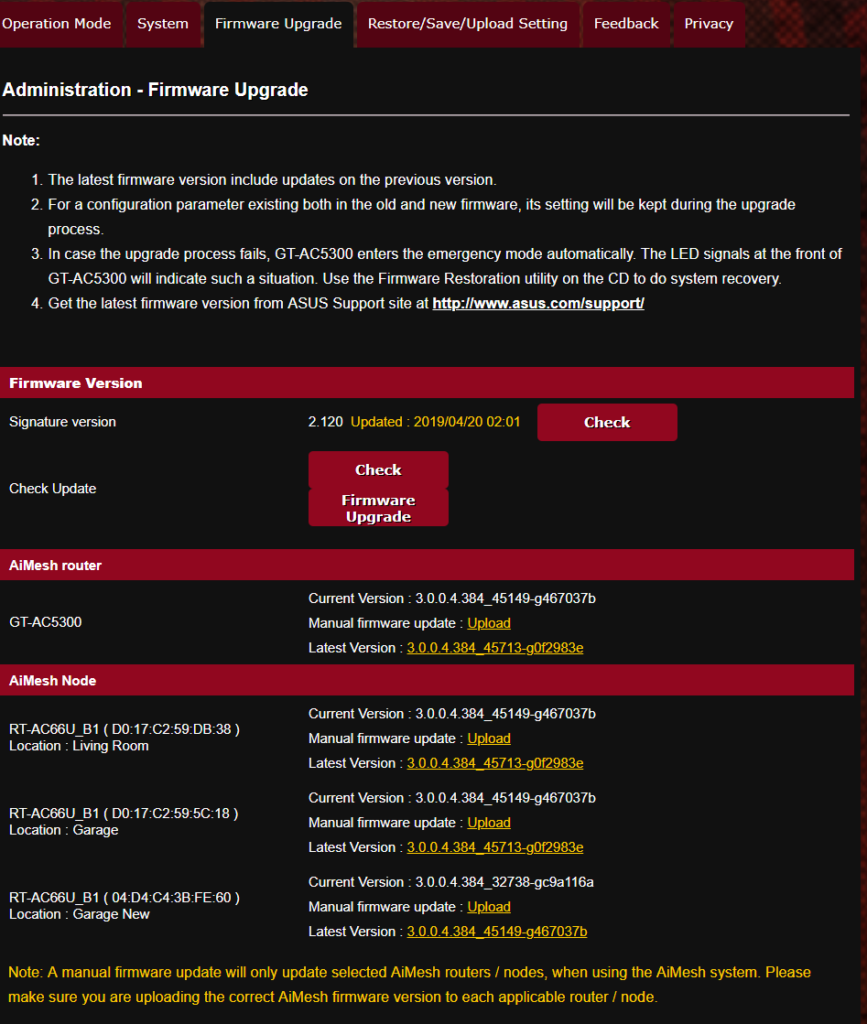 A single click of the Upgrade Firmware button was all it took to upgrade the new node to the same release as the other nodes and the router.
Well done ASUS, *much* simpler than before.